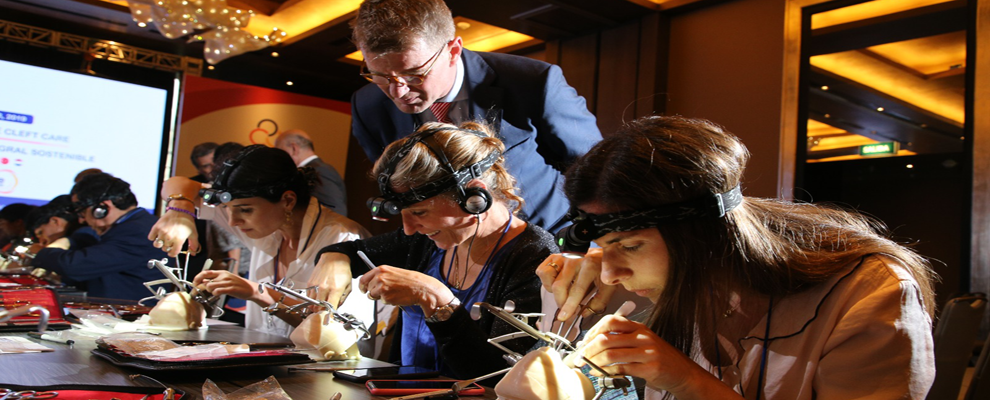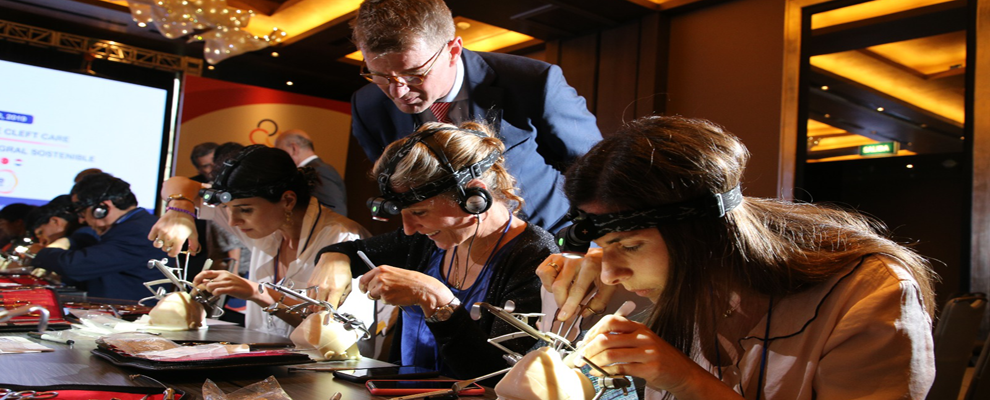 Upcoming Comprehensive Cleft Care Workshops
Rio de Janeiro, Brazil, October 11-14, 2022
Barcelona, Spain, October 10-13, 2023
New Delhi, India, October 8-11, 2024
Cartagena, Colombia, November 4-7, 2025
Past Comprehensive Cleft Care Workshops
Fourth International Comprehensive Cleft Care Workshop in Istanbul, Turkey
Our 4th International Comprehensive Cleft Care Workshop was held October 6- 8, 2021 at the Marmara Taksim Hotel in Istanbul, Turkey.  Due to the ongoing Covid-19 pandemic, our event was a hybrid event, with 200 in-person attendees and another 289 virtual attendees. Sixty speakers, all experts in their respective fields, joined us both via zoom and in-person.  The breakout simulation sessions included an Augemented Reality workshop, Cleft Lip & Palate Surgical Simulation Workshops, as well as a Facial Nerve Block Workshop.  We are hoping to expand on our hands-on workshops for 2022!
Third International Comprehensive Cleft Care Workshop in Chennai, India WEBINAR
Our Third International Comprehensive Cleft Care Workshop was to be held in Chennai, India October 14-16, 2020. However, due to the COVID-19 global pandemic, the workshop was converted into a webinar format over the course of two weekends, October 2, 3, 4, and 11, 12, 2020.  There were a total of 302 registered surgeons, dentists, speech pathologists, psychosocial professionals, and other allied health professionals, with 39 countries represented. Our 47 world renowned speakers from all around the globe delivered their lectures via Zoom and included lively discussions among the speakers initiated by attendee's questions.
Second International Comprehensive Cleft Care Workshop in Lima, Peru
The Lima, Peru workshop was held from October 16-18th, 2019,  with 181 registered surgeons, dentists, and speech pathologists from 27 different countries around the world. This three day course included hands-on surgical simulation sessions for cleft lip and palate as well as a nasoendoscopy lab for speech therapists, taught by 32 world-renowned experts in the cleft field.
First International Comprehensive Cleft Care Workshop in the Middle East/North Africa Region (MENA)
Held in Beirut, Lebanon on April 25-27, 2018, this was the first workshop in the Middle East/North Africa region to include simulation labs. More than 80 surgeons, speech pathologists, and nurses from 20 different countries attended the workshop, aimed at empowering healthcare professionals in creating a sustainable platform for cleft care. World-class experts provided hands-on training on comprehensive cleft care and surgical techniques on simulation models, including speech therapy and advanced nursing care. The workshop was accredited by Cleveland Clinic, the American Cleft Palate-Craniofacial Society (ACPA), and the European Association of Plastic Surgeons (EURAPS).
Project Santa Smile
Held in São Paulo, Brazil at the Santa Casa Hospital, this three-day workshop took place on October 10-12, 2017. The workshop featured interactive lecture sessions and live-streamed surgeries so that doctors and medical students could view surgeons at work.
Copyright © 2022 Global Smile Foundation, Inc. All Rights Reserved.
Global Smile Foundation, 106 Access Road, Suite 209, Norwood, MA 02062
Phone: +1 (781) 355-2065
Email: info@cleftworkshop.org
Website: www.cleftworkshop.org